Select File.
...
...
...
Systems Alliance Berlin-class Cruiser ::
Systems Alliance Berlin-class Cruiser selected.
Loading File...
Loading...
Loading...
Ship Size Category:
Cruiser
Ship Classification:
Sustained Fire Support
Capacity:
320 crew and 60 marines | 6 UT-47A Kodiak Drop Shuttles and 6 F-61 Trident Fighters OR 6 SX3 Glaive Interceptors
Length:
650 Meters
Weight:
 1,023,562 Metric Tons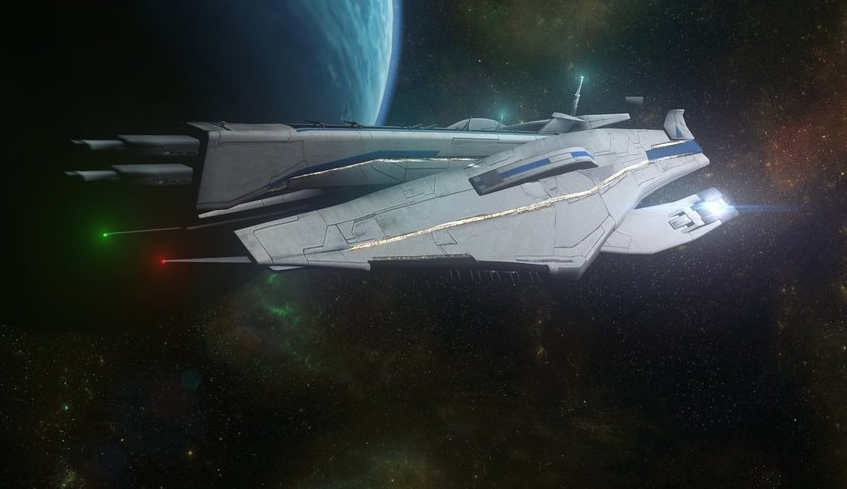 Armament
Weapon Systems


One Javelin Disruptor Torpedo Tube

10 Twin-linked Broadside Mass Accelerators (Five on each side of the vessel)

One Heavy Bore Spinal Mass Accelerator

Defensive Systems


Kinetic Barriers

GARDIAN Laser Defense Grid

Propulsion & Power


Antiproton Thrusters

Fusion Collider Plant

Prometheus Drive Core

Senors and Scanning


Thermographic Scanners

Radio Detectors

Radar

LADAR

OtherCurrent Status:
16 units in service (SSV Berlin, SSV Hamburg, SSV Munich*, SSV Frankfurt, SSV Stuttgart, SSV Leipzig, SSV Dusseldorf, SSV Cologne, SSV Nuremberg*, SSV Potsdam, SSV Dresden*, SSV Bonn, SSV Hanover, SSV Bremen, SSV Essen, SSV Mannheim)
Systems Alliance Berlin-class Cruiser
The Berlin-class was designed as the first true Cruiser of the Alliance Navy, first put into service in 2153 shortly before the First Contact War.
*NOTE: SSV Dresden, SSV Munich, and SSV Nuremberg are not currently in any Alliance fleets, and are rumored to have been stolen by Cerberus. The Alliance has not commented on these rumors.
Event Team Leader




Posts

: 66


Join date

: 2018-01-12


Age

: 16


Location

: Texas





Similar topics
---
Permissions in this forum:
You
cannot
reply to topics in this forum