ANDROMEDA INITIATIVE
Select File...
>...
>...
>...
> Nal'Jaeram
:: Nal'Jaeram Selected.
Loading Dossier File.
Loading...
Loading...
Personnel Identification Information.
Personnel Identification Image: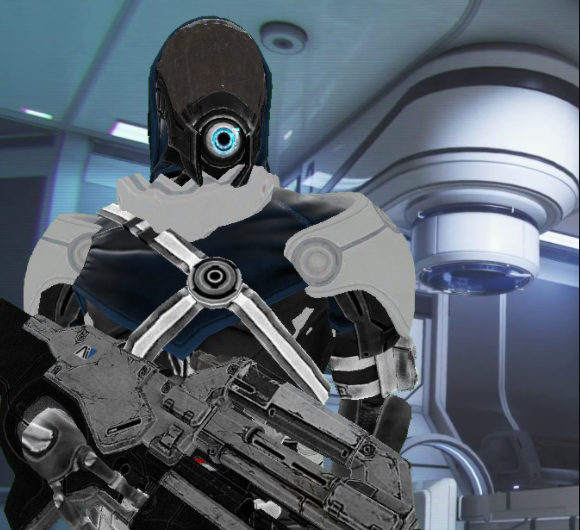 (Nal'Jaeram on a security patrol of Ark Hyperion while others are in cyro in 2716.)
Name:
Nal'Jaeram (vas Gunbay)
Aliases:
Gender:
Male
Species:
Quarian
Team Assignment:
Position:
Security Officer (MP)
Andromeda Initiative ID:
01301-94104-NJ
Physical Appearance:
A 6ft tall masculine quarian wearing a specialized environmental suit bearing Initiative colors. It has reinforced padding and shields and has several pouches around it's waist. He speaks with a authoritative tone and carries a fold out baton with him. His visor is completely sealed off with a ballistic mask.
Vocal Sample:
(Kal'Reegar - ME2)
___________________________
Personnel Information.
Training:
 Migrant Fleet Marines combative training, Frontline Marine simulations and training, Migrant Fleet Security training, Andromeda Initiative Security Forces training.
Education:
 Migrant Fleet educational school classes, Andromeda Initiative Security Education.
Assignment:
TBD, IPV Cannae
Operational Status:
Active Duty
Previous Occupation:
Security forces, Migrant Fleet
Class:
Soldier
Abilities:
Concussive shot, tactical scan, shock grenade
Awards and Decorations:
Deepstar medal, Veil Piercer medal, Vanguard star.
Miscellaneous:
Casualty Classification:
[N/A]
___________________________
Organization Relationships.
Faction Allegiance:
Andromeda Initiative
Listed Liked Factions:
Turian, Human, Asari,
Listed Disliked Factions:
Quarian, Geth, Vorcha, Batarian,
Listed Neutral Factions:
Krogan, Hanar, Volus, Elcor, Salarian
Hostile Factions:
Pirates, Slavers
Personal Relationships.
Loved:Respected:Friend:Liked:Acquaintance:'Milerrus'
:
"She's a pretty good biotic and fairly kind, Made sure I didn't die when we escaped the IPV Leviathan, so, thanks I guess."Neutral:
'The Salarian Doctor'
:
"He talks fast and sometimes it's hard to keep up with him. We haven't talked much, just had to get checked out when I first showed up for some head trauma."
Detractor:'Bobby'
:
"I've got a feeling that he either doesn't like me for what I am. Or that he just doesn't like to listen to anyone...Maybe he's got a screw loose somewhere."
'Whitaker'
:
"It's one of the A.I's linked into every single Ark on this journey. Other than the giant bad idea that went into that decision. He seems to be rather docile and hardly tries to have a conversation. I can't tell if that's a good thing or a bad thing though."
Disliked:
Hated:
Despised:
Feared:
_______________________________
Last edited by Kravis on Tue Apr 03, 2018 9:06 pm; edited 9 times in total
Lead Coder




Posts

: 292


Join date

: 2018-01-12


Age

: 21


Location

: Santa Fe, Texas



Lead Coder




Posts

: 292


Join date

: 2018-01-12


Age

: 21


Location

: Santa Fe, Texas




---
Permissions in this forum:
You
cannot
reply to topics in this forum